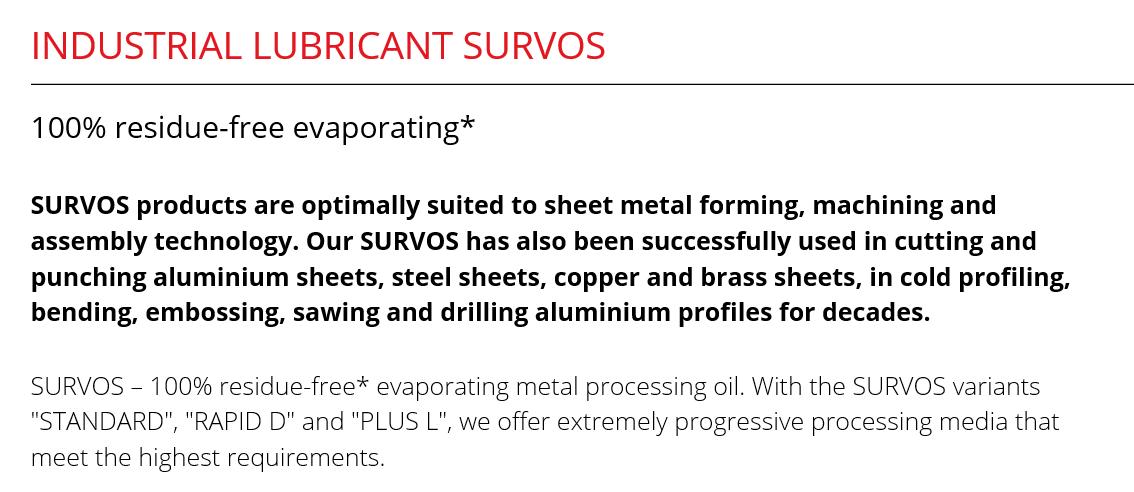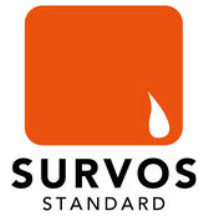 ** STOCKED CRT PRODUCT **   
SUROVS

detaches from a workpiece with 100% residue-free evaporation even when the parts lie flat on top of each other.
Only selected raw materials of the highest purity are used for

SURVOS

. One of the main components is dearomatized hydrocarbons of the highest quality. As a metal processing medium that evaporates residue-free, SURVOS combines optimum lubricity with favorable values for evaporation speed, toxicology and environmental protection.
All

SURVOS

products are classified according to REACH (EC 1907/2006) and do not contain any substance that is on the list of candidates for SOVHC.

SURVOS

does not contain any CFC, PCP or PCT. In addition, all

SURVOS

products are free of nitrite, chlorine, halogens, nitrosamines, amines and amides.
Quantities Available:
4 x 1 gallon containers

200 liter drum

1000 liter IBC container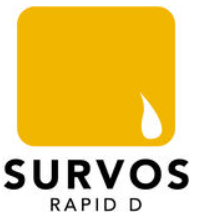 SURVOS Rapid D

evaporates considerably faster than "standard" formulation (with a somewhat lower lubricity). SURVOS Rapid D impresses, however, with short evaporation times and is 100% residue-free*
The fluid is used in particular when operations follow each other in a short cycle sequence and no residue is allowed to remain.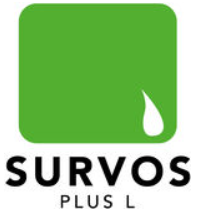 SURVOS Plus L meets the strict food law requirements of the FDA US regulations in accordance with 21 CFR 178.3620(b) and 178.3120
SURVOS Plus has a high lubricity and quickly evaporates 100%*
*According to the specifications of the DAB (German Pharmacopoeia), an evaporation residue of <0.01% is considered to be residue-free. The evaporation residue of SURVOS Plus SURVOS Plus L is 0.0045% or 45PPM.