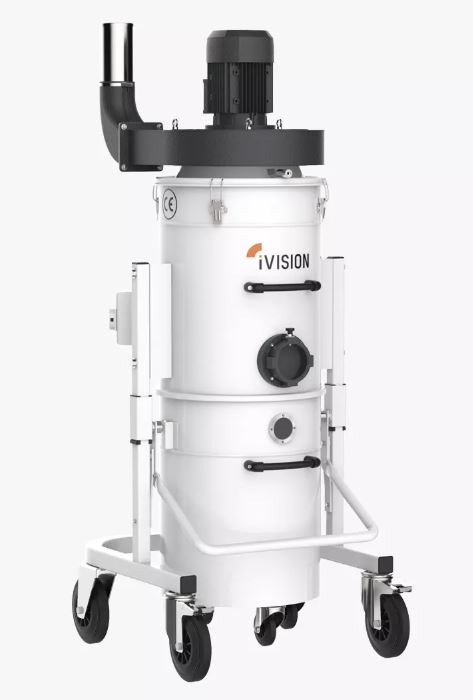 iV2 EXTRUSION
INDUSTRIAL VACUUM CLEANERS FOR METAL & PVC CHIPS
Vacuums of the iV2 Extrusion line are the medium-sized models of the iVision industrial vacuums and come recommended to be used with large, single-head saws or small, double-head saws with a medium production of chips in the work environment that produces little chips and dust.  These industrial vacuums are very versatile and their ideal application is for producers of doors and windows using PVC or aluminum.
The attention and care given to the design of the vacuums of the iV2 Extrusion line, combined with being composed of robust materials characterize the iVision fan industrial vacuums. iVision has established itself over the years in the world of extrusion and windows and is recognized as upholding the utmost quality, reliability, innovation and efficiency.
STANDARD SUPPLY
Centrifugal electric fans at high flow up until 1200 m3/h
Visual filling indicator
Continuous work cycle without maintenance
Structure completely made in steel
Anti-track, turning wheels with parking brake
M Class Polyester filter
Container capacity 38 Liters
Rapid release container opening
Silencer to reduce the noise level according to regulation
Pneumatic motor filter shaker integrated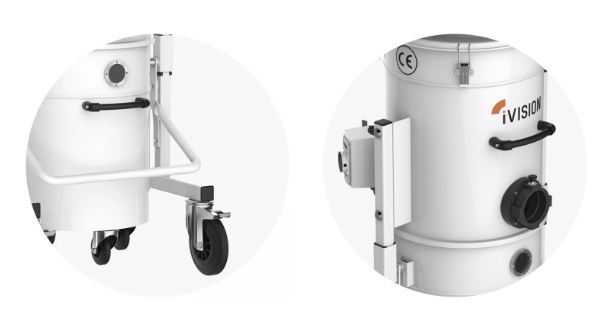 OPTIONAL
Remote control
PVC bag kit for chip collecting
Cleaning kit for cleaning the machine after the work day
Antistatic kit
Lift kit in order to avoid force on the part of the operator during the process of emptying the container
Touch Screen
View Options