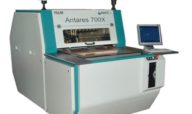 Machines and systems for the multilayer PCB inspection and reference drilling.
Customers are the core of our business and we will utilize the full scope of our internal resources, and those of our associates, to help our customers be successful.
The commitment of our support is not dictated by the sizes of our customer's business but rather it is dictated by the understanding that we are an integral part of their business.
We will supply our customers with quality product and services, commit to what we can deliver and deliver to what we've committed too.
"Jim's company provides the best service and technical expertise that can be found. I have worked with his company for many years in my career as a product/manufacturing engineer when I was with IBM, Carolina Circuits, Coretec, etc.
One of the best resources available. "
"CRT had been a vendor of ours for almost 20 years. The company is service oriented and has the inventory and expertise required to support their product line in the industry they server. CRT is just a good company to work with, always willing to put in the extra effort. They are one of our preferred suppliers."
We're always  available to provide you with  your project needs whether big or small. Please don't hesitate to get in touch with us.

If you want to contact us to see how we can help you please call (203) 281-1266 or send us an e-mail.