Internal Lubrication Devices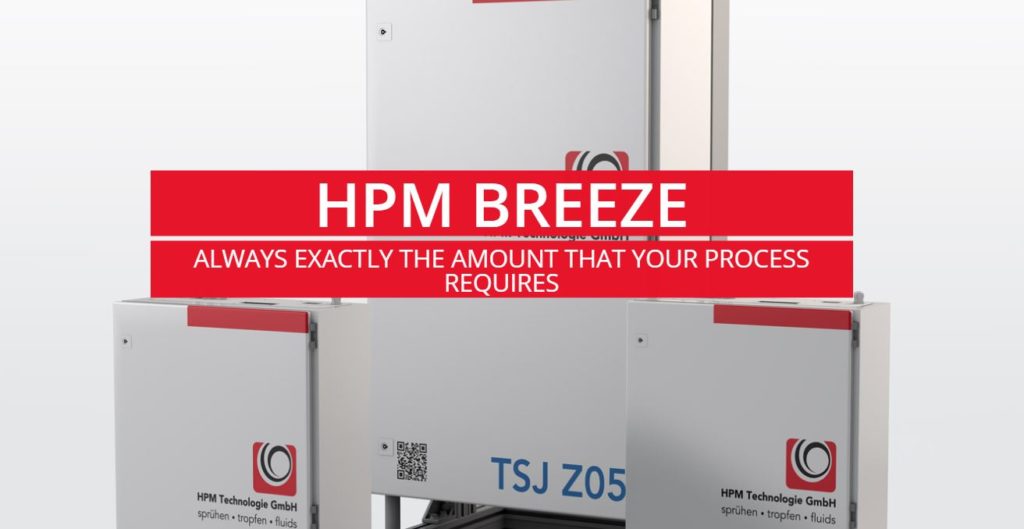 ECONOMIC AND ECOLOGICAL MACHINING WITH HPM BREEZE



Our Breeze technology has enormous advantages over previous classic lubrication applications.
An average of between 5 and 50 ml of lubricant per process hour and tool are used for the machining process. However, these consumption values ​​can also be adjusted up to 200 ml per process hour, depending on the requirements of the individual operation. In addition to this outstanding advantage compared to the previous process, the HPM Breeze process offers further enormous advantages in economic and ecological terms.
Benefits of HPM Breeze
Can be used on portal milling machines, turning and milling centers, multi-turret turning centers, multi-spindle machines and all other machining centers.
CAN BE RETROFITTED 
Only an axial spindle rotating lead through or the like is required. No change to the spindle due to our 1-channel technology.
OPTIONAL SWITCHING BETWEEN KSS/MSS 
Different pressures can be controlled via the NC machine program
Oil saturation can also be set via the injection nozzles
Capacity approx. 4 liters
FLEXIBLE 
Response times <0.1 s
Can be used between 4 – 16 bar (depending on the tool)
Air volume flow of 70 – 800 Nl / min (depending on the tool)
Consumption between 5 – 100ml / h
Several spindles can be supplied at the same time
The spindle should be suitable for dry running
ECONOMIC ADVANTAGES: 
Reduction of lubricant consumption many times over
Reduction of cleaning effort
Reduction of immissions and emissions
Reduction of skin intolerance
Always fresh medium in the process
ECOLOGICAL ADVANTAGES: 
Always fresh medium in the process
Dry workpieces – dry chips
Elimination of the disposal costs for chips
Higher cutting speeds
No costs for emulsion care
Better surface quality.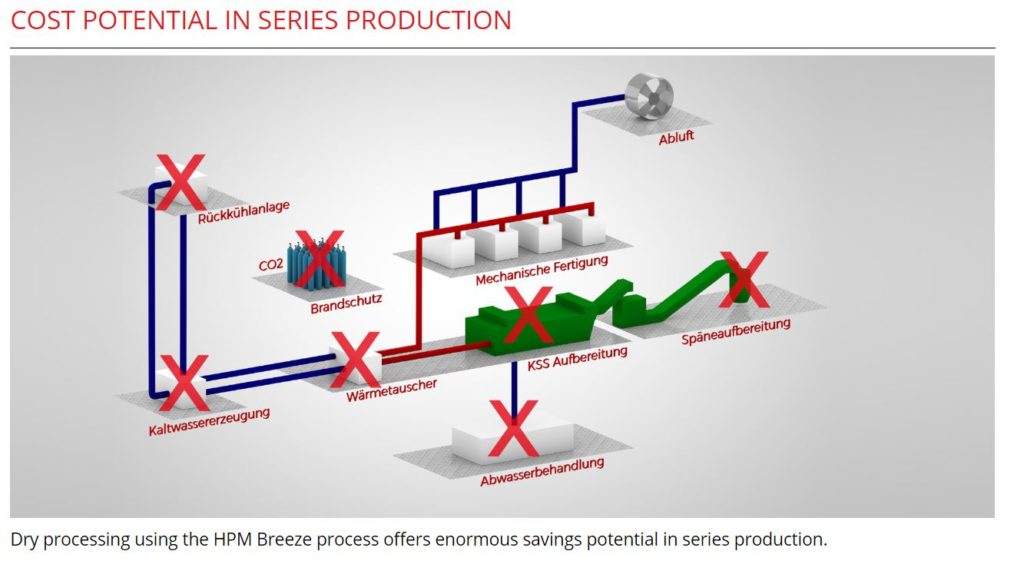 Dry processing using the HPM Breeze process offers enormous savings potential in series production.
If, in traditional quantity lubrication, numerous systems are still required, for example to cool and clean the emulsion, to process the chips and to treat the waste water, all these items can be omitted when processing with the HPM Breeze process.
The savings potential is enormous.

GRAY: Water soluble coolant emulsion BLUE: HPM Breeze