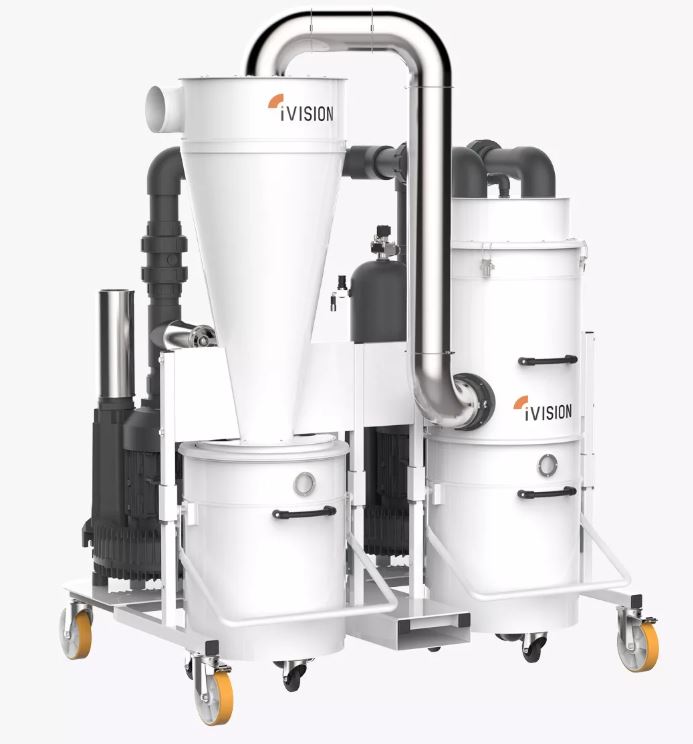 INDUSTRIAL VACUUM CLEANER FOR FIBERGLASS AND ALUMINIUM
The iV Custom PCB vacuum consist of a cyclonic prefilter, a central unit with turbine, an integrated filter, an electrical panel with inverter and all necessary components in the management of PLC control with color screen. The system is also equipped with a powerful silencer to ensure full compliance with international standards.
The iV Custom vacuum cleaners are, for all intents and purposes, a centralized system and are among the most technologically advanced systems available on the market, and are not comparable to any of the traditionally known systems. The long experience of iVision staff, as well as a willingness to meet customer demand, have led to the development of high-tech products as well as customized solutions. Thanks to a frequency inverter of these filters iV Line Custom PCB can manage as efficiently as 15 CNC machines simultaneously. A sophisticated control sensor (optional) is able to measure the deterioration of the filter of the vacuum cleaners. iV Custom PCB, greatly reducing maintenance and ensuring a steady income and a permanent central vacuum.
A dedicated control system, which allows control of all functions, allows iVision to be the only company in the world that can offer optionally up to a 5 year warranty on the entire centralized system.