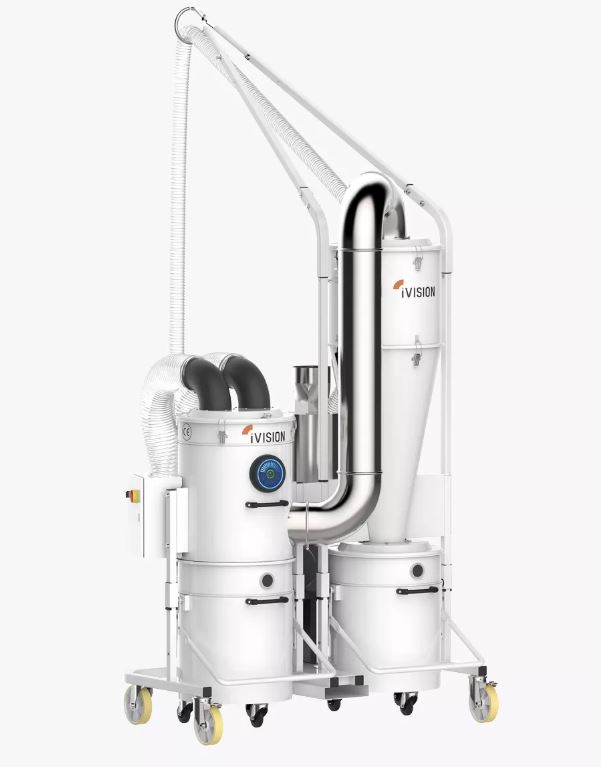 INDUSTRIAL VACUUM CLEANER FOR CHIP ON CNC ROUTER.
iV Custom FLAT line vacuum cleaners were born from a long experience in the mechanical industrial sector to meet the growing demand of material collection from chippings generated during the routing and milling process on 3-axis milling machines.
iVision has established long term collaborations with many CNC routing machine manufacturers and has therefore developed specific accessories to facilitate and optimize the use of the vacuum cleaner with a CNC machine.  Optional accessories, like the patented Aerial Arm or the Touch Screen, have been developed to make iVision iV Custom Flat line.

ADVANTAGES
High-efficiency turbine vacuum cleaner especially developed for this kind of machines
All vacuum cleaners are equipped with vacuum safety valves
Adjustable feet better stabilization
Use of smooth and flexible hoses that improve air flow
The optional Aerial Arm extends from above to eliminate hassle of hoses around the machine
Touch screen for easy recognition of the level of contamination of the filter and send this data directly to the CNC machine
Pneumatic gate closure activated by a pedal to work simultaneously with multiple machines
Optional cleaning kit can be used by the operator to clean the machine after work